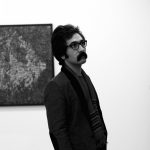 ARTWORKS    
Originally from Tehran, recently moving to The Hague (Netherlands), the multidisciplinary artist has been working in the fields of painting, drawing, mixed-media and generative art. He uses various techniques according to his artistic vision; always innovative, Nikzad Arabshahi reflects, researches and experiments in order to produce a body of work which is in constant transformation.
His very first works were a visual translation of the effects of organic shapes on his imagination.  His focus was on motivating the inner feelings of the audience and to this end, he used the pencil-on-paper technique and visual language. Along the development of his thoughts, Nikzad Arabshahi has always been attracted to the limitless world of the mind, its imagination and its use in creating images. He realized that the closest subjects to his mind are psychology and quantum physics.
For Nikzad Arabshahi, the process of creating allows an intense introspection and a better understanding of the complexity of the mind.
Nowadays, the artist focuses on generative art, realizing projects at the intersection of the fields of Arts, Science and Technology. He is currently following supplementary studies of Art Science at the Royal Academy of Art of The Hague  – KABK.
View video – 10 min. – Autogenesis – Prototype
Autogenesis – version (01) To shed more light on how Autogenesis is working,
first of all we shall have a review on general definition of Generative Art.
A field of art in which the artist applies a system to produce an artwork is called
"Generative Art". The system can be an integration of natural language, computer
programming or other related innovative mechanisms that are able to render
a level of autonomy in part or in the whole fabrication process of the art work.
Generative Art can be Hi-tech or non-high-tech, yet the core system needs to
be designed in a way to be able to manage the terminal work autonomously.
As a result, generative art refers to how the core system is working and
the creation process of the artwork. Thus, to discover its link with its production
reasons and understanding its content, initially we must investigate system
producer algorithms; because despite the fact that the core system is
constantly hidden, it is the fundamental and constitutive part of the final art work.