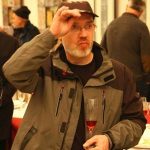 Born in 1966 in Kyustendil, Bulgaria, Stanislav Bojankov achieved a MFA in "Printmaking and Fine Arts" in 1995 at the Academy of Fine Arts in Cracow, Poland, in the Studio of Prof. Andrzej Pietsch. He works in the area of painting, drawing and graphic art.
Stanislav Bojankov-Stanko achieves in his work a complete harmony between poetic vision and tangible object. Through the means of art he transfers drawing into different elite dimensions of space. The new Euclids optic which the artist opposes against the secrets of present and future, is like an insight into the fantastic architecture of matter and time. Perhaps this is where Ariadnas invisible string of fate starts to uncoil through the labyrinth toward the soul of ideal humanity. (Plamena Dimitrova, Art Critic, Bulgaria).
AWARDS AND GRANTS
23 International Awards, Mentions and Diplomas.
2018 : Honorable Mention Award for the high aesthetic, technical and creative standard of your work- Winner, France.
2016 : The 2016 American Art Awards, Category Cubism: 5th place – Hollywood, LA, USA – Winner– Holywood, LA, United States.
2007 : The Pollock-Krasned Foundation Grand – Winner– New York, United States
2003 : The Pollock-Krasner Foundation Grant, New York, USA.
MEMBER of The Print Center, Philadelphia, USA
INTERNATIONAL EXHIBITIONS
Nearly 400 exhibitions around the world: Lincoln, Maastricht, Varna, Maribor, Toronto, Taipei, Majdanek, Cracow, Wimbledon, Ibiza, Lubin, Philadelphia, Seoul, Skopie, New York, Kanagawa, Lodz, Plovdiv, Sofia, Beograd, Sint Niklaas, Ljubljana, Cluj, Rijeka, Leskovac, Olkusz, Kolobrzeg, Carbunar, KualaLompur, Cheju, Cairo, Pisa, Siauliai, Katowice, Wieliczka, Rosario, Busan, Livorno, Torun, Boguszow-Gorce, Bitola,Thessaloniki, Kyiv, Gliwice, Oldenburg, Moscow, Evora, Timisoara, Istanbul, Elassona, Milano, Guanlan, Novi Sad, Sarcelles, Xativa, Aqui Terme, Bologna, Tarragona, Malbork, Guangzhou, Luxembourg, Tuzla.
PUBLIC COLLECTIONS AND MUSEUMS
Poland, Bulgaria, Romania, Croatia, Belgium, Malaysia, Egipt, Kazakhstan, USA, Taiwan, Turkey, Macedonia, Greece, Italy, Serbia, Spain, Bosnia and Herzegovina.