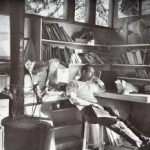 ARTWORKS  
Jacques Nestlé was born in 1907 in Saarbrucken, close to the border of Luxembourg. He died in Paris in 1991.
He moved to Berlin in 1925 where he was influenced by the Bauhaus movement and avant-garde artists, including his contemporaries Kandinsky and Paul Klee. In 1933, he surrendered to the calling of France, and soon joined numerous artists in Paris where the Modern Art revolution was already in progress since the middle of the 19th century.
Two important events occurred in Paris: first, Henri Matisse noticed his work, encouraged him and inspired him lastingly. Secondly, art dealer and art collector Daniel-Henry Kahnweiler elected to promote him as he did with Picasso, Braque, Derain or Gris. Jacques Nestlé, who describes himself as « not a painter, not an artist, but simply a man who paints », did not pursue Kahnweiler's offer. He lived on the proceeds of his art without ostentation and claimed that his paintings brought him happiness.
In the early 50's, similarly to American abstract expressionism symbolized by Jackson Pollock, Jacques Nestlé evolves towards a more spontaneous foundation, enthused by the imperious desire of the artist struck by inspiration. His art cultivates a deliberate ambiguity between figuration and abstraction, evolving towards a personal form of lyric abstraction in which the artist unleashes his direct expression, a reflection of his inner emotions.
Moreover, according to Nestlé, « genius is the moment when art emerges in an instant of creation. And then, it belongs to all times, present and future, reflecting the artist struck by an irrepressible desire to paint outside of rationalization ».
Paintings of Jacques Nestlé were presented in 2013 at the Saarlandmuseum in Saarbrücken at the occasion of the Landeskunstausstellung.