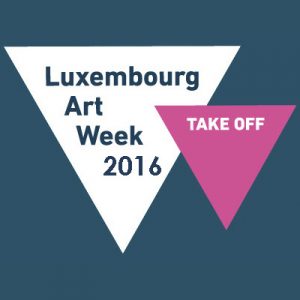 LUXEMBOURG ART WEEK 2016
TAKE OFF

At this fair CULTUREINSIDE GALLERY showcased a selection of photographs in a show entitled
T.O.P. TALENTS OF PHOTOGRAPHY :
Exhibited photographers : Alex Stoddard_USA, Laurence von der Weid_ Switzerland, Marc Montméat_France, Gediminas Karbauskis_Lithuania, Ludovic Minet_France
ARTISTS & PHOTOGRAPHERS
NISSIM BEN ADERET _ ISRAEL NIKZAD ARABSHAHI _ IRAN AGNÈS BOULLOCHE _ FRANCE STANISLAV BOJANKOW _ BULGARIA DIETMAR BRIXY _ GERMANY THIERRY BRUET _ FRANCE SERGEJ BRUSHKO _ BELARUS GEORGE CABIG _ PHILIPPINES VINCENZO CARDILE _ LUXEMBOURG HIROSHI HARADA _ JAPAN,/FRANCE JOHANN GEORG MUELLER _ GERMANY JACQUES NESTLÉ _ GERMANY/FRANCE MICHEL DINUNZIO _ BELGIUM ROGER DORNSEIFFER _ LUXEMBOURG JOSEPHA GASCH-MUCHE _GERMANY _ BARBARA GREENE MANN _ USA / CANADA FLORENCE HOFFMANN _ LUXEMBOURG NICK JAPARIDZE _ GEORGIA ZAO LISHAN _ CHINA PIERRE-LUC POUJOL _ FRANCE/USA ADAM MARTINAKIS _ GREECE MARC MONTMÉAT _ FRANCE JEAN-PIERRE RUELLE _ BELGIUM MARGOT REDING-SCHROEDER _ LUXEMBOURG JEAN STARCK _ FRANCE MARTIN STEINERT _ GERMANY LARISSA STRUNOWA _ RUSSIA/GERMANY XENIA aka KSENIJA LJUBIBRATIC_ SERBIA/FRANCE
ABOUT THE GALLERY
CULTUREINSIDE GALLERY is the destination in Luxembourg for art lovers and collectors to discover international contemporary works of art selected by its director Gila PARIS, and its board of curators. By focusing specifically on international art of the last and current century, the gallery has set itself locally apart as a modern, dynamic and forward-thinking gallery. We strongly focus in our program on the promotion of our international artists in a select number of categories : Painting, Drawing, Photography, Sculpture and Editions which we exhibit regularly in our solo shows and at art fairs. Our considered approach and specialized knowledge lead clients and collectors to seek our advice on contemporary art. The gallery's mission encompass the promotion of international private collectors' assets as well as the diversification of portfolios with collections and new promising talents.