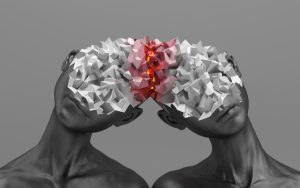 From 6th of July to 21st August 2021
CULTUREINSIDE GALLERY is pleased to present the recent works of Greek-Polish digital artist, Adam MARTINAKIS.
The solo show "Light and Matter", focuses on Adam Martinakis' peculiar way of revealing the complexity of human emotions. In a place of zero gravity, bodies are in a state of permanent transformation. His digital beings are placed in futuristic and surreal atmospheres. These humanoid bodies are made of filaments, nearly fragile, of photorealistic veins, or even with fragments of precious metal or stone. Adam is consistently experimenting with light and matter in order to show us the intricacy and beauty of human relationships. When entering Adam's universe, we live explosions of feelings, we live screams of humanity, too.
"Our body is the only home that we really have, and the most expressive tool we've got. Even when we don't use it, like when we sleep or just sit and think, we always imagine ourselves in our bodies. I use it as a symbol of human presence."