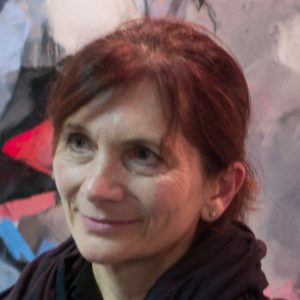 Larissa Strunowa is a Russian artist born in Yekaterinburg in 1960. She studied painting and scenography in Moscow between 1976 and 1981. She lives and works in Germany since 1995.
With a vigorous brush stroke, Larissa Strunowa paints without taboos or prejudices human bodies working with transparencies and contrasting colors. Using only the basic principles of body representation – the contour and color – the artist evokes the nude without showing it completely and detaches itself from the purely realistic representation. Some paintings graze on abstraction and it becomes difficult to differentiate human forms from geometric forms that come to embrace in a skillful gradient of sustained tones.
The mysterious universe of her works, both disturbing and fascinating, gives to voluptuous silhouettes a captivating aura. Due to the sculptural appearance of the bodies, the magnified postures and the chosen environment, some works plunge us into scenes inspired by reinvented legends and mythologies. Larissa Strunowa's paintings also reflect a strong sensuality which is translated into a feeling of intimacy shared with the mysterious and phantasmagorical beings of her works; also in both mystical and contemplative landscapes, we find the same visual strength enriching her creative universe.
The works of Larissa Strunowa are all facets of her mind. It is rare to be able to perceive with such clarity the profound thoughts of an artist; Perhaps it is possible because Larissa is a full-fledged, uncensored and unstated soul.